Previously we have established that original HP ink cartridges have at least 2 levels of protection: genuine labels and "best before" dates. How about the toner cartridges?
Monochrome laser is the most common printing technology for offices. According to HP, replacement of a toner cartridges renews 2/3 of the whole printing mechanism. So it's worth making sure the cartridge you buy is not a freud.
For demonstration purposes we used HP Q2612A and C7115T toner cartridges. Here are several signs to tell you the cartridge you hold is a genuine HP toner cartridge:
specific location of the hologram label
air-proof package of the cartridge inside the box
protective tape in cartridge
production codes on the cartidge casing and on the box
Identifying original HP laser toner cartridges
1. Location of the hologram label
HP toner cartridges have same type of holograms as we saw before, plus they have production codes on labels. On toner cartridge box, holograms are located at the joint of the box and a tear-off stripe. So, upon opening, a part of hologram label is torn off with the stripe, the other part remains on the box, as shown below:

2. Air-proof package of the cartridge inside the box
Inside the original box, cartridges are always air-proof packed so they could reach any corner of the world intact. Or so that technical personnel could play football before the installation 🙂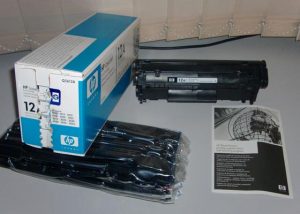 3. Protective tape in cartridge
The very cartridge always has a protective tape that separates toner hopper from magnetic roller. In some cartridges, this tape may have a plastic tip soldered to the cartridge case. As it does in C7115A, for instance.

4. Production codes on the cartidge casing and on the box
Another important level of protection is production codes drawn on both the box and the cartridge. It is allowed that first 5 symbols of the production code on the cartridges box match first 5 symbols of the code on the cartridge inside the box. The difference in ending symbols should not be taken as a sign of forgery.
The production code on the C7115A cartridgs and its box is identical – 7G128M2Bk: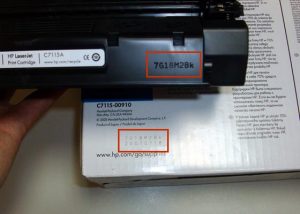 Knowing these 4 distinctive signs you can easily tell an original toner from a fake. And remember, there is always a reliable source of original HP toner cartridges at hand.
Take care and don't let yourself be tricked!