Hello! Today we have some hi-tech news again, the "we found another use for inkjet printer" kind of news.
So, there is a company, FUJIFILM Dimatix, that supplies drop-on-demand inkjet printheads for industrial applications. The company recently announced that researchers at the Department of Chemistry at Colorado State University used its cartridge-based Dimatix Materials Printer (DMP) to devise a method of developing new materials for producing hydrogen from water and sunlight.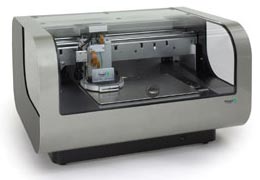 The researchers used a Materials Printer to do the necessary calculations and precisely print arrays of finely-graded compounds onto special transparent substrates.
The new method allowed the researchers to isolate a particular chemical compound that has potential for water photoelectrolysis. Water photoelectrolysis is a conversion of sunlight into an electrical current that divides water into hydrogen and oxygen. This process is critical for energy-efficient hydrogen production.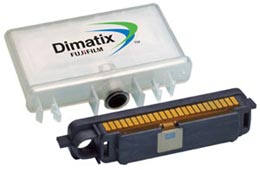 The printer uses the Dimatix Materials Cartridge that has 16 nozzles linearly spaced at 254 microns with typical drop sizes of 1 and 10 picoliters. These cartridges allowed the researchers to accurately determine individual droplet volumes of the compound gradients, the number of nozzles firing, the jetting waveform for individual nozzles and the frequency of nozzle firing. Such level of customization makes it a great printer, indeed.
The compound optimized during the research is made of three common elements – aluminum, cobalt and iron. The researchers hope that the method can be used to find new solar water splitting materials that are both functional and inexpensive.
As oil prices go up, discovery of new materials for the production of alternative fuels is very appealing.