You may be pleased to know that Kyocera announced a development of the world fastest and industry widest drop-on-demand inkjet printhead.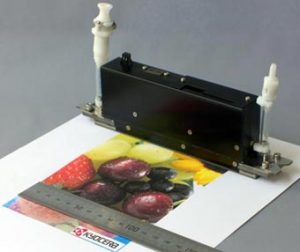 The KJ4 Series printhead that was developed in cooperation with Brother is claimed to print at speeds of
up to 200 m per minute at a resolution of 600×480 dpi
up to 150 m per minute at 600×600 dpi.
They didn't specify the width of a print produced at such speed, but it seems to be the width of the printhead ifself, that is 10 cm.
The printhead comprises a Kyocera-developed piezo actuator that accommodates 2,656 ink nozzles in a 108 mm-wide arrangement. The device dimensions are 200x25x58 mm.
The printhead is versatile and can use both water-based pigment and UV inks, delivering them in 4 to 20 picolitres droplets onto variety of media – from paper to fabric, film and plastic.
In performance test, two printheads used in Miyakoshi Printing Machinery MJP600 printers were able to achieved outputs of 1,000 A4 sheets per hour.
Commercial sales of the KJ4 Series printhead will start in April 2008, which means we're going to see devices printing at light speed some 3-4 month later.