You may have forgotten, but in November 2007 Epson announced a new high-speed inkjet printer that was supposed to be a compelling alternative to laser printer.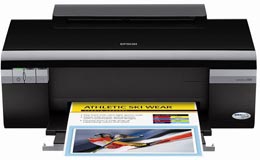 I'm talking about Epson Stylus C120.
Today, this printer is launched into production, so let's see what they say it can.
Printing speed. Based on independent testing, the Epson C120 offers the fastest black text printing compared to ink jet printers under $160 and is up to two times faster compared to ink jet printers under $100. To be exact, the printer speeds up to 37 ppm for black and 20 ppm for color. In draft mode, naturally.
Ink and Print Head Technology. Epson Stylus C120 prints using Advanced DX3 MicroPiezo printhead with smart nozzles that produce and precisely place three sizes of ink droplets. According to Epson, variable size of droplets requires fewer nozzles to print photos at fast speeds.The printer uses individual ink cartridges with DURABrite Ultra inks that increase fade resistance up to six times in indoor display condition. Two black cartridges allow about twice as much black printing, at about twice the speed, as compared to (you will be surprised here) printing with a single black cartridge!
The printer comes in bundle with Epson's Auto Photo Correction that allows for, well, photo correction. The software is, by the way, unavailable to Mac OS X users.
With Hi-Speed USB 2.0 support, this Windows and Mac OS compatible printer is now available at a suggested retail price of $69.99.