…an attendee approached me with a question I've been asked a hundred times before. "Are these water-based inks or pigment inks?" I gave my usual response, "Well, both—actually," then launched into an explanation about ink formulation theory, the history of inkjet printing, and the correct application for ink types. He proceeded to tell me I was wrong because someone at a printer manufacturer's booth had just told him the opposite.
This is a beginning of a great article titled "Debunking the Myths of Digital Inks" by Tony Martin for Digital Photo Techniques magazine. I recommend everyone who interested in printing technologies and every inkjet printer user reading this article.
To answer the question in the title, I'll allow myself to quote Tony Martin once again: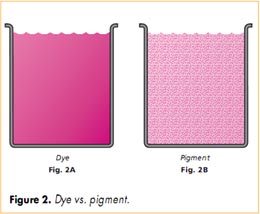 "The difference between a dye and a pimgent is simple to explain. A dye is a colorant that is fully dissolved into the carrier fluid, and the resultant ink is a true solution (Figure 2a). Once dissolved into the carrier fluid, a well-made dye should never separate or settle out. One dye ink analogy is that it's like diluting a fruit juice with water. Once stirred, it never separates again—no matter how long you leave it. A pigment is a very fine powder of solid colorant particles suspended or dispersed throughout the carrier fluid (Figure 2b). A crude analogy for a pigment ink is that it resembles sandy-colored water in a river or at sea. If you look closely, you can see the particles of sand dispersed throughout the water."
How exactly this difference affect image quality and work of inkjet printer in general you will learn from the acrticle.
Also, from "Debunking the Myths of Digital Inks" (PDF format, 135 Kb) will tell you:
what the Golden Rule of inkjet printing is and how it helps with printer clogging
why 100-years expected image life does not really matter
whether use of third-party inks is going to void your printer's warranty
when you should use bulk ink feeders