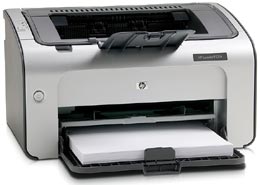 Size matters. Sometimes the smaller is the better, when it comes to space on your desktop.
Taking up about the same area as a 15.4-inch notebook, the printer claims to be able to push out its first copy in under 8.5 seconds (from the PowerSave mode) with an average speed of 14 pages per minute. It uses a special ink developed by HP-formed from perfectly spherical particles–which it says should give better image quality over other inks.
To this day, it is the smallest printer made by HP on the laser category. It can print a piece of paper in approximately 8 seconds, while the rate per minute is 14 pages.
The new printer has a number of features and benefits:
HP's smallest and most compact laser printing system features a sleek, ultra-compact design and easily fits on a desktop.
Patented spherically-shaped toner and a redesigned cartridge allows for a smaller print cartridge and HP's smallest laser printer.
New monochrome toner produces bold, crisp text, and sharper images every time you print.
Reliable and easy-to-use, the all-in-one toner cartridge means less supply management.
The HP LaserJet P1005 printer uses CB435A toner cartridge.
The HP P1005 costs $138 in the Asian market, and each cartridge is priced at $63. Hopefully the rest of the world will be able to purchase the printer in local stores too, maybe in 3-6 months