One year ago, in January, 2007 Zink Imaging announced the development of a technology that would enable mobile printing with out a drop of ink. Instead, dry crystals incorporated in structure of paper are activated by heat to form an image. Eventually, this technology would allow for a portable printer, very much like that in Polaroid cameras in 1990's.
That expectations have come true, and a new mobile Polaroid-like printer came to life. It resembles Polaroid so much that it the bears the name. Actually, Polaroid licensed the Zink printing system and presented its 'Polaroid Digital Instant Mobile Photo Printer' or PDIMPP for short.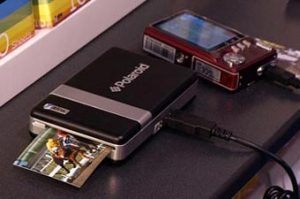 This handheld printer connects to a digicam or mobile phone via USB or Bluetooth and makes use of the PictBridge direct printing standard. It then prints out business card-sized pictures as fast as 60 seconds per each picture.
The Polaroid printer is powered by a rechargeable battery and measures 120 x 70 x 24mm, but it won't leak ink all over your hands because it uses an ink-less printing technology from manufacturer Zink.
The PDIMPP is expected to appear in the US during second quarter, priced at around $150.