Somehow this news has been escaping both my sight and my site. Anyway, I'm catching up telling it to you. Judging by that picture can you say how big the printer is?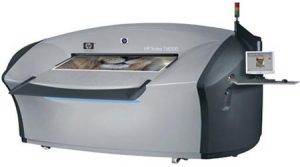 Or the right, there seems to be a 15-17-inch LCD (that's the right size for printer displays, not those pathetic 2.5 inches!), so the printer is really huge. Wont' keep you waiting for long, here is how it looks in environment: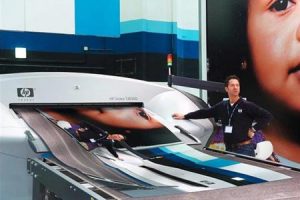 This is HP Scitex TJ8300 wide-format digital press, presumably the largest printer in the world. According to the specification on HP' site, this printer uses six color solvent inks to produce images up to 64 x 145 in (1.5m x 1.8m) at a range of resolutions:
Best-Quality mode: 600 dpi (apparent)
High Quality mode: 448 dpi
Production mode: 336 dpi
The printing speed vary naturally depending on resolution:
Up to 400sqm/hr at 336 dpi.
Up to 200 sqm/hr in true 448 dpi.
Up to 100sqm/hr in apparent 600dpi.
The price of this monster is amazing $630,000. I guess I should have given it the first prize in my recent Top 7 Most Expensive Printers. On the other hand, HP Scitex TJ8300 perfectly fit for Top 7 Largest Printers, which I was thinking to publish some time later.
Peeped at http://jak119.wordpress.com/2007/11/13/massive-printer/