Manufacturers of printing devices are well-known to make profit selling not the printers, but rather consumables for them. However, it does not make it any less surprising the two new printers by Brother International, HL-2100 series monochrome laser printers.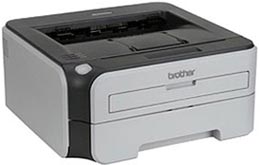 Brother HL-2170W, a successor of a popular HL-2070N model supports two network interfaces: wired Ethernet and wireless Wi-Fi. Given the street price of $149.99, Brother can responsibly call it the industry first wireless laser printer to hit (reversely) the mark of $150. The other printer, Brother HL-2140 (priced even lower – $119.99,) is further development of HL-2040 model.
Both printers combine high printing speeds and compact dimensions: 14.5 x 14.5 x 6.7 inches. They are capable of printing up to 23 pages per minute at maximum resolution of 2400 x 600 dpi. And 250 sheets of paper is how much a input drawer can hold.
The Brother HL-2140 is equipped with USB port and has 8 MB of RAM onboard, while HL-2170W model comes with 32 MB RAM and supports Ethernet, 802.11b/g (Wi-Fi) and USB interfaces.
Both model use same printer cartridges. A standard yield toner cartridge is enough to print 1,500 pages, and high yield cartridge contains toner for 2,600 pages. The drum duty cycle is estimated as 12,000 pages.
List of supported OSes includes Windows Vista/XP/XP x64/2000/Server 2003/Server x64; Mac OS X 10.2.4 (or newer).