7. Ricoh Aficio CL7300DT
The last position in the Top 7 of Most Expensive Printers belongs to the Ricoh Aficio CL7300DT which is a bit slower – only 35 pages per minute for full-color, and black & white. However it features much greater maximum paper capacity of 3,100 sheets and a duplexing unit. 200,000 pages per month is maximum duty cycle og this laser printer.
Equipped with standard 256MB of RAM and a hard drive, Ricoh Aficio CL7300DT has 100 Mbit Ethernet and USB 2.0 ports. Optional wireless (Wi-Fi and Bluetooth) and wire (gigabit Ethernet) are available. Additional features also include Sheet Finisher and Booklet Finisher.
Standard configuration of Aficio CL7300DT is priced "modest" $5,700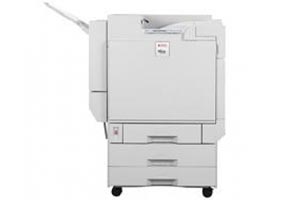 6. Epson Stylus Pro 10600
This creation of Epson engineers holds the sixth place in our top chart. This printer uses the UltraChrome, the ultimate ink technology, which delivers up to double the density of conventional Epson pigment ink for wider color range and better water resistance and durability.
This wide-format printer can produce up to 44-inch by 100-feet banners and the maximum speed of 231 square feet per hour. The printer uses 7 separate color cartridges including Light Cyan, Light Magenta and Matte Black inks.
If you feel like making a welcoming banner or wallpapers on your own, you should consider buying Epson printer, which would cost you hefty sum of $6,500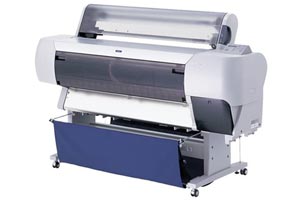 5. Canon imagePROGRAF W8200
The fifth place is occupied by imagePROGRAF W8200 is another wide-format printer, this time by Canon. This printer utilizes a 1-inch wide printhead with 7,680 nozzles and it takes it only 2 minutes produce a color A0 (33.1x 46.8 inches) page. Canon imagePROGRAF W8200 also support papers rolls of up to 44-inch wide.
Another candidate to make wallpapes for you costs $7,200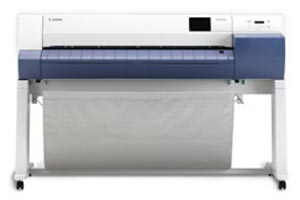 4. Xerox Phaser 7400DXF
Phaser 7400DXF, a Xerox's top laser printer for large workgroups, climbed up to forth position. The printer boasts of printing speeds of 40 pages per minute in black and 36 ppm color. A big amount of papers drawers that hold 3,000 sheets and numerous finishing units are what make this printer stand out among the others. 512 GB of RAM and a 20 GB hard drive exalt the impression.
Still not impressed? How about the price? It's  $7,600!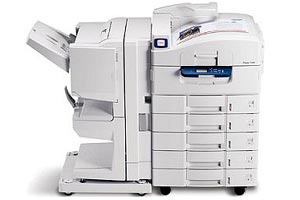 3. Lexmark X854e MFP
You can get even more of printer from Lexmark X854e MFP. 55 pages per minute, 300,000 impressions one-time maximum monthly duty cycle and maximum input of 5100 sheets is not all. This multifunction laser printer not only performs faster and handles larger paper volumes, it also provides security measures for network communications and data, such as Secure Sockets Layer and hard disk data wiping.
All of that will be your for only $17,000!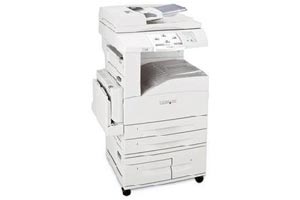 2. HP LaserJet 1160
The silver prize goes to… The funny thing is, the silver goes to gold! On GITEX 2006 in Dubai, HP presented a golden edition of the LaserJet 1160 to celebrate hitting the four million sales the Middle East. And when I say 'golden' edition, I mean this literally. The printer was coated it in 24-carat gold and that made it worth $20,000!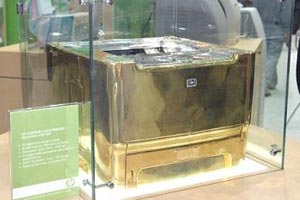 1. IBM Infoprint 2085
And the winner of out top chart is IBM Infoprint 2085 multifunction printing system. Being the most expensive printer, it is also the largest – 82.9 by 28.9 by 58.1 inches. The device is capable of printing and coping and the speed of 85 pages per minute at 600 x 500 dpi resolution. And 800,000 impressions of month duty cycle is really impressive and something to be expected from such a high-speed printer.
IBM Infoprint 2085 holds up to 7,550 sheets allowing intertwining different colored stock without paying for manual insertion. Just as many features adding flexibility and efficiency make this IBM printer a true leader among high-end printing solutions.
Despite this model was discontinued, it is still available here and there at incredible $30,800!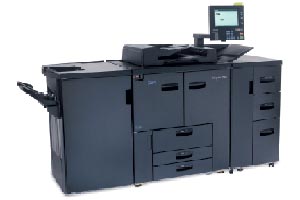 That is all for today, see you next time! By the way, you are welcome to comment, if you have different views on what this Top7 should look like.