This article covers common issues that rise during the use of most toner cartridges. For practical purposes the cartridge examined is made by Hewlett-Packard and there are reasons for that. First, this brand has long been a leader on printer market. Second, cartridge refilling which is still widely used by small business and home offices.
What you see above is a perfect test page. Of course, it's a 99% merit of new original cartridge. Original makers of printer consumables have a smoothly running production and high-level quality management. Up to 2% of total output is tiny figure for rejection rate provided by major brands. However, that doesn't mean third-party manufacturers make cheap and inferior products. Compatible printer cartridges can also be reliable in use. It's all a matter of specific brand, it's quality management and, surely, the warranty.
Considering that cartridges get refilled, it come as no surprise that after 5-7 refills printing artifacts appear. This is caused by time, lifespan, yield and low quality of parts, and sometimes carelessness of laborer or production equipment failure.
Practically speaking, here is a good example for this article: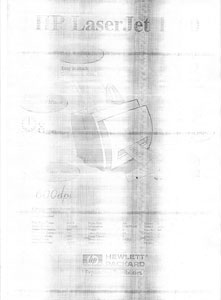 The look of this page can tell you that the cartridge is empty, charged roller is broken, there's a split between developer roller and toner hopper and photoreceptor drum requires replacement. Reading these problems from a printout is easily available to everyone, regardless of his job position or level of technical skills. Don't you agree it's great to know a bit more than others and to put that knowledge to use?
What a cartridge is made of?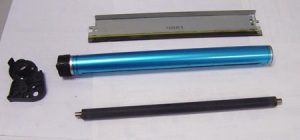 These are the cartridge parts involved in the process of printing
The picture above shows parts of HP Q2612A toner cartridge, but they are common for most HP monochrome cartridges. From top to bottom:
Wiper blade (cleans excessive toner from the drum)
Photo imaging drum (creates initial image)
Charged roller (charges and discharges the drum)
Magnetic roller and metering blade responsible for toner transfer to photo drum are missing from this picture. All together these parts make up imaging unit. Some cartridge makers, unlike HP, separate drum from toner unit.
In the next part we wil turn from theory to practice.