You've, probably, heard or seen those compact photo printers that promise photo-lab quality printing at home. You may even own one. These standalone printers are designed so you can create images without help of computer, though, personally, I don't think this is a good idea.
Anyway, those printers have tiny (I know, manufacturers call them large) LCD-display that is supposed to let you preview the snapshots before print and perform some minor photo editing. Never took this feature seriously, because nothing compares to full-size display.
I suppose the same idea came to both Epson and Philips, too. The two companies together have developed a new product called PhotoViewer. Using PhotoViewer you can (guess what?) view photos on your TV screen and then print the ones you liked on a printer. Despite your expectations, PhotoViewer can be connected to any TV-set, however, the printer would be Epson, precisely Epson PictureMate PM240.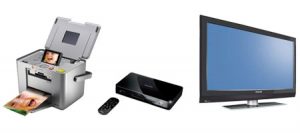 The PhotoViewer is actually a black glossy box with memory cards slots on front panel. The device can be directly connected to the television with the included audio / video cables. Epson printer is plugged in through USB port. By the way, a remote control is also included, so you can zoom in and out and rotate images, and pause the slideshow from your coach.
The new contraption can view photos in full 1080i high-definition television. You can download photos from a memory card, digital camera, mobile phone or PDA, as well as from USB hard drives and memory stick. One of the coolest features of PhotoViewer is ability to play MP3's during the slideshow.
Viewing picture on the big screen is fun, but consider this. When you'd see an image in details, thanks to the new device, the chances are you may want to change it. Say, retouch the wrinkles or remove a pimple. Admit it we all want to look better on photos.
By the way, the PhotoViewer is priced €179, which is about $265. Do you think it's worth the money?