Xerox launched a network color laser printer, Phaser 6130. The device is designed for small businesses that require printing color documents and offers a number of advanced features to make it easier to use.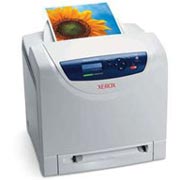 Xerox Phaser 6130 comes with pre-installed toner cartridges, so it's ready to use right out of the box. It has the Run Black feature that keeps printing with black toner even if the color toners are over (don't they all do or supposed to do this?). Besides, the printer recognizes and automatically skips pages without any text or images. Very smart feature, saves time and paper, thou the sheets would come out blank anyway.
The printer has 1 GB of memory and can print up to 12 pages per minute in color and 16 pages per minute in black and white. It supports resolution of 600×600 dpi and 4 colors, with 16 shades per color.
Phaser 6130 includes 250-sheet paper tray for variety of media and a 10/100 Mb ethernet adapter for network connectivity. With that printer you can go wireless, too, if you obtain an optional 802.11g wireless adapter.
Xerox claims compliance of the printer with ENERGY STAR requirements, so the toner cartridges and routine maintenance supplies are recyclable.
Xerox Phaser 6130 laser printer is available now at $399 after a $50 mail-in rebate.