Konica Minolta Business Solutions introduces an addition to its next-generation bizhub range of multifunctional – the bizhub C203, C253 and C353.
Konica Minolta bizhub C203, C253 and C353 have network printer, copier and network scanner functionality as standard with a Super G3 fax module option. The only difference between the new models is the speed of printing – 20 ppm for bizhub C203, 25 ppm for bizhub C253 and 35 ppm for bizhub C353. Each printer perform equally fast in both color and black-and-white.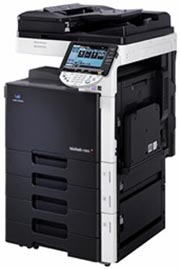 The design of the multifunction printers features a LCD color 8.5-inch display, with a touch screen that can be both rotated and tilted to suit a desired position.
The new bizhubs have a range of features that limit access of unauthorised users to functions such as color, scanning and single sided printing. The features include user authentication by user name and PIN, and the option of fast biometric authentication via finger print, or a contactless user card.
The three new Konica Minolta bizhubs support auto duplex for printing A4-sized pages on both sides.
The new multifunctions feature slit scan technology that can scan originals as fast as up to 70 color or mono sheets per minute at 300 dpi resolution. Konica Minolta's patented Simitri HD Polymerised Toner is used in these machines for more even distribution, significantly better fine line definition, and better solid fills and overall quality output.
The bizhub C203, C253 and C353 are available with a range of high productivity finishing options including sorting, stapling and saddle stitching.