One day we are going to sink in the ocean of printer-produced pages, or, rather say, be buried under mountains of such pages. And Britain would to take the impact in the first place.
In 1975, Business Week magazine predicted a paperless office. Recent studies show this proves to be an exaggerated prediction. The number of printed pages is somewhere between 2.5 and 2.8 trillion worldwide and is predicted to go up within next 10 years.
A study done for Xerox shows that British office workers throw away almost half of what they print during a day. That equals over one trillion (million of millions) pages a year. Most of the wasted printouts are one-time use like drafts or e-mails; some printed pages hardly last 1 minute.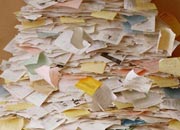 Another survey, this time done for Fujitsu-Siemens, reveals that British offices print up to 120 billion pages every year, 22 pages a day per average office worker. It's said that such amount of paper would make a mountain more than 8,000 miles high. You can do the calculation yourself: a pile of paper 1-inch high holds around 250 sheets.
Experts say people are often too careless and, probably lack some corporate guidelines, when it comes to printing practices.
The increasing number of printed pages, while being a source of waste and pollution, has another side.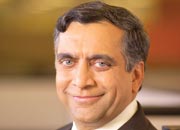 Vyomesh Joshi, Executive Vice President for HP Imaging and Printing Group, says in an interview that 49 trillion pages will be produced this year, and 53 trillion in the next two years. He complains that only 800 billion pages (1.6 per cent) are produced using HP printers.
The number of printed pages goes up and, as an HP research shows, more and more printing is done directly from the Web: this year's 48 percent are expected to reach 60-70 percent next year. The company sees this as an opportunity to increase its share of the market.
With development of the Web, HP pays attention to online areas adjacent to printing. The company acquired the SnapFish photo service, now accounting 45 million users, and more recently acquired Tabblo, which allows user to more easily organize and print text, graphics and photos from the Web.
Also, Vyomesh Joshi predicted a bright future for inkjet printers:
Ink jet will completely replace photo printing technology in the next few years, Joshi said, and people will be able to print anywhere and anytime, from the home, retail locations or mail order. "This where things are going, and it will happen to books, magazines, newspapers and marketing collateral."
Web is good, waste is bad. If you want something more material than images on your screen, but the idea of polluting the planet with printed pages does not excite you, here is news. Brother (the one that makes printers, faxes and sewing machines) introduced a new ink jet garment printer.
The Brother GT-541 uses ink jet technology that prints on variety of garments in high quality color directly from a computer. The company claims the ink jet garment printer is simple to operate, just like a desktop printer, and can be networked with multiple units.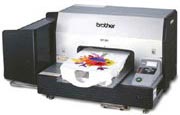 According to the Brother, this printer suits well for making money. See, it only requires 50 cent for the ink and $1-$2 for the t-shirt, which can be sold at $15-$30. Great deal, isn't it? Besides, the GT-541 eliminates all set-up, tear-down, clean-up, screens, squeegees, or pallet adhesive typical for traditional screen printers.
The printer uses water-based pigment ink of 4 colors (cyan, magenta, yellow and black) to imprint as big images as 14 x 16 inches at 600 x 600 dpi resolution. Being so good, the GT-541 yet has one downside – for a relatively small (approximately 4 x 3 x 2 feet) printer it weights just good 220 pounds! On the other hand, such devices are not to be carried around.
That's all for today. See you next time!