It stroke me as curious that Mitsubishi, apart from cars and conditioners, also makes printers. There is a whole separate company – Mitsubishi Digital Electronics America Imaging Products – that is responsible for producing printers. The other day the company announced Mitsubishi CP-9800DW digital photo printer that "offers high-grade picture quality at even faster output speeds, making the unit an even more powerful revenue-generator for professional photographers."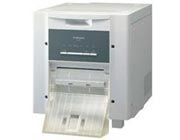 Mitsubishi CP-9800DW prints 4 x 6-inch photo in 8.7 second, which makes up 100 prints in 15 minutes, or 400 prints per hour. All in all, the printer supports four print sizes – 3.5 x 5 inches, 4 x 6 inches, 5 x 7 inches, and 6 x 9 inches – with edge-to-edge printing.
The  printer employs a proprietary high-density, highefficiency thermal head that provides a 300 dpi resolution.
The CP-9800DW is USB 2.0-enabled and features 32 MB of RAM.