Every time we go online, we expect the web to give us something new. Some news we receive "automatically", like the e-mail messages from your friends or newsletters from your favorite website. Other information doesn't come easy. To find it we often have to make a search.
The search is what modern Internet relies on. Searching engines like Google, Yahoo or MSN has become an integral part on everyday life online. Can you imaging yourself digging through billions and billions of web pages looking for, once we're into printers, the specification of a new printer or printer cartridge compatibility? Neither can I, and that's why we all love searching engines – they are here for us trying to provide most relevant results.
However, it's not only the search engines that are expected to provide effective search.
Now let's fancy another situation: you're up to buying something online, let it be toner cartridges (remember, we're still into printers). If you have a favorite printer cartridges store, you would go there and make a purchase. If you don't have a favorite store, I suppose you would use a searching engine to find one, and let's suppose you have. What you've just done is made a search — selected one shop from thousand of others. The only thing left to do is to find those very cartridges for you particular printer.
Do you know how many ink and toner cartridges exists? I' m not sure there is an exact figure, but for what I know, average online printer supply store sell 3-5 thousand cartridges. I believe no one argues that every online store selling more than even a hundred different items should have a good search, or, at least, have the products categorized convenient and well. You would get to like a store where you can find the product you need fast and easy, wouldn't you?
What I'm going to tell you is not just singing praises to the online store of Toner Cartridge Depot. In fact, this printing supplies outlet does feature powerful search and handy navigation. Treat it like a guide to shopping with Toner Cartridge Depot.
So, let's assume you got to this store while searching for printer cartridges. What's next? From now on you have several ways to find your supplies.
The Catalogue
On the main page, right before your eyes is the list of manufacturers/brands.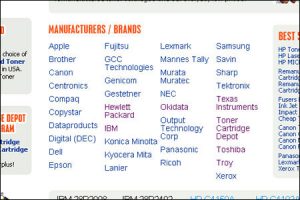 Generally, these are who made your printing device you are looking supplies for (though there are some who don't make printers themselves, but only cartridges for other's printer). Clicking the required brand (say Hewlett Packard) will take you further to next page.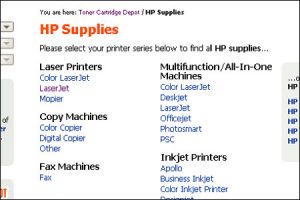 Here you can see types of devices produced by given manufacturer and model families existing for each type. The printer's family name is usually written on its case. For instance, if you have an HP Color LaserJet 4500 printer, "Color LaserJet" would be the family name. Select your model family to move on. You landed on a page with a list of models existing within given model family.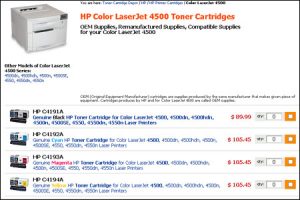 Now you are one click away from the supplies you need. All you have to do is to select your printing device model. If you are not sure what the model's name and number are, check them on the front panel of device's casing. So choose the model and see what supplies we got for it. Apart from genuine supplies, a range of compatible and remanufactured cartridges is often available for some most popular printer models. As a rule, they are a bargain purchase, so you may consider them as well.
The Quick Supplies Finder
This is a very handy navigation tool that allows you to find printer cartridges pretty much like in the Way 1, unless you don't need to move from one page to another. Quick Supplies Finder is a set of three dropdown menus: the first menu selects a brand, the second one selects a device type, and while the third menu helps you chose your model. Having chosen the model, you will be transferred to a page containing supplies for that printing device model.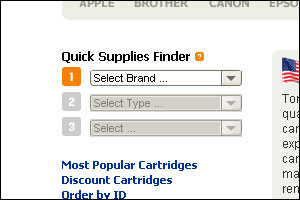 The Search
Finally, Way 3, the highlight of today's performance, the Toner Cartridge Depot search algorithm. This is a small input field in the top bar in upper-right corner of a page, but it's more than meets the eye.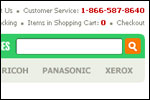 The search is easier when you know what you are looking for, be it printer model or printer cartridge number. You simply enter one or the other into search filed and press enter. Should there any matches, you will see them in search results.
But what if you, somehow, don't know either model of your printer or the cartridge number? That's pretty unusual situation, but the search rates just all right against general queries. Let's suppose, you have some laser printer by HP and you ran out of color toner. Natural thing to search is "color toner cartridges for HP". Voila! The search returns only color cartridges for laser printers made by HP. Additionally, you can narrow your search by several criteria like color, brand, supplies yield, condition and type. Oh, almost forgot! Also, you may sort the search results by order, description, price or quantity to be added.
In given example below, you can specify the exact color of the toner cartridge you need and its condition: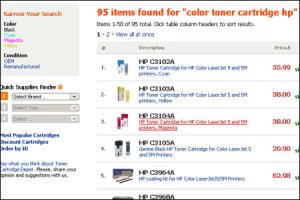 You can try entering any other queries of your choice or need. You are welcome to let us know if you get unexpected results.