As I previously reported, inkjet printers have gone way beyond simple printing your office documents. Japanese "always-searching-for-something-new" scientists found another way of using inkjet technology – for printing blood vessels.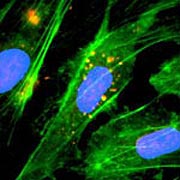 Researchers from the Tokyo Medical and Dental University succeeded in printing a blood vessel using a modified inkjet printer specially designed at the Kanagawa Academy of Science and Technology. The printer injects in a spiral pattern a mixture of living cells and special medical gel into a solution of calcium chloride. The solution reacts with the gel, making it solid and keeping the cells in desired shape.
The scientists have managed to produce a blood vessel of 1 mm in diameter and 1 cm long. The interior layer of the vessel is made of endothelial cells while the outer layer is comprised of muscle cells, just like an ordinary vessel. So far, the produced blood vessel is just a prototype and does not suit to be transplanted into body, as it's not strong enough to support blood flow. However, if the technology proves viable, it would be possible in far future to print out complex organs such as muscles, skin, bones, etc.