We are back in town! Two weeks of complete isolation from computer world have left me feeling hungry for news. Let's see what has been going on in printing industry.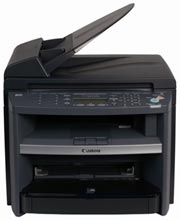 Canon announced two new models: imageCLASS MF4270 and PIXMA mini320. Canon imageCLASS MF4270 is a network-ready multifunction laser printer with a built-in duplex unit, designed for small and home offices. Apart from regular printing, the duplex print applies to incoming faxes and copying documents.
Canon imageCLASS MF4270 can print and copy at speed of up to 21 pages-per-minute (ppm) at up to 1200 x 600 dpi resolution. Fax unit feature 8 one-touch speed dial numbers, 100 coded speed dial numbers and 256-page memory capacity. The printer uses Canon Single Cartridge System, which means toner and drum are combined together in one unit.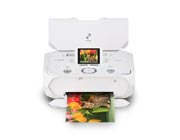 Canon PIXMA mini320 is another compact photo printer "to bring to life those images captured at important moments". According to Canon, this is the first compact photo printer in the brand's model range to print images up to 5×7 inches. PIXMA mini320 feature 2.5" color LCD screen with wide viewing angles, and the Easy-Scroll Wheel interface. The printer uses Canon's ChromaLife100 system that provides 100-year-lifespan of pictures printed with genuine inks.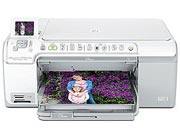 Hewlett Packard respondes with introduction on a new multifunction inkjet printer. HP Photosmart C5283 All-in-One combines printer, scanner and copier in one unit, so it can scan, copy and print black-and-white and color images. Bundled HP software allows printing web pages without cut-off edges. Photosmart C5283 support print directly onto CDs/DVDs, and from most common flash cards. The printer is fueled with 6 color HP Vivera Inks in separate cartridges.
HP keeps on exploiting the idea of the Web being a storage for documents for printing. Now is the time for mobile phones to come into play. Having been developing for several months, one of HP laboratories gave birth to a new service named Cloudprint. This software makes it possible to share, store and print documents using a mobile phone.
Here is how it works. Users first "print" their documents to a HP server connected to the Internet. The system assigns them a code, and transmits that code via SMS back to user. Later, using the SMS, it is possible to retrieve the documents by entering the user's phone number and the code on the Cloudprint Web site. The documents can then be retrieved in PDF format, ready to be printed at a nearby printer. The service will include a directory service that will show the location of publicly available printers on Google Maps.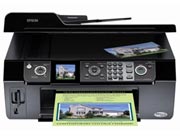 Next is Epson reporting. The Japanese company launched three new printers ranging in features and prices. The first one is Epson CX9400Fax, a multifunctional printer that also copies, scans and faxes. The device features built-in 33.6 Kbps fax modem and 30-page document feeder. The Epson CX8400 can print borderless 4×6 images in 26 seconds and monochrome documents at the speed of 32 ppm. The basic model, CX7400, produces black text pages at 28 ppm and 4×6 borderless color prints in 27 seconds.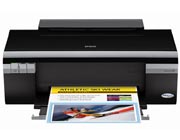 And now Epson presents something really interesting – world's fastest laser-quality printer! Epson C120 is the fastest laser-quality document ink jet printer around. It can print as fast as 37 ppm for black and 20 ppm for color, obviously, in fastest (draft) mode. Epson claims that this performance makes the C120 leader among ink jet printers under $160 in terms of black and white printing, while offering about twice the speed of printers in the sub-$100 segment.
Priced for only $90, Epson C120 may seem a cheap purchase. However, beware of ink costs. Black ink cartridges for the C120 are currently selling for about $20, while a color cartridge is about $38. Black and color cartridges are rated to print 250 and 350 pages accordingly, and you can count on spending at least $200 on ink for every 1000 pages. These are the cost comparable to owning an economical color laser printer, so think it over before buying the printer.