This post may be interesting to you if you own a Canon or Epson inkjet printer and still can't decide whether to use genuine of compatible inks to print your photos. This post will, probably, make you feel disappointed if own a Canon or Epson inkjet printer and chose compatible inks to capture the moments of your life into paper with compatible inks. This post will make you feel proud of using genuine inks for your Canon or Epson printer.
Let's get to the point. Allion Test Labs, Inc. a Taiwan-based company that verifies product quality and interoperability of PCs and PC peripherals, has tested color fading of inkjet-printed photos using OEM inks and third-party manufacturer's inks. Allion was hired to do the test as independent tester and didn't reveal the relations between test results and the ink manufacturers names. It's only known that the evaluation was done using two printers: one by Seiko Epson Corp, the other by Canon Inc.
The color fading test was made of three parts:
how well a photo framed under glass resists to an in-door light
how fast a photo degrades in the dark (to simulate album conservation)
how well a photo resistance to gas
In the accelerated gas resistance test a mixture of gases is used to simulate aging of a photo, so that one year of real life can be tested in 72 hours (if you are interested in the actual gas formulations, visit the original news page).
The punchline of the evaluation is this: no remarkable color fading was discovered in print using original printer manufacturers' genuine ink and paper after an acceleration test that results in aging equivalent to five years. On the opposite, color visibly started to fade in photos printed with refill ink and genuine paper, even in tests resulting in aging equivalent to one year. See that for yourself on the figure below for one brand (the original inscriptions were in Japanese):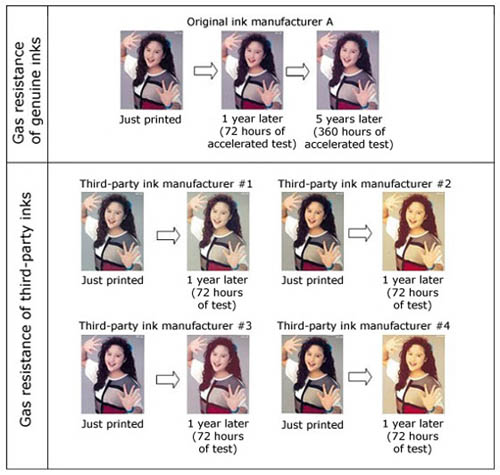 As we see, picture printed with geniune inks even in five years is not as faded as the one printed with third-party inks. Almost the same figure for the other: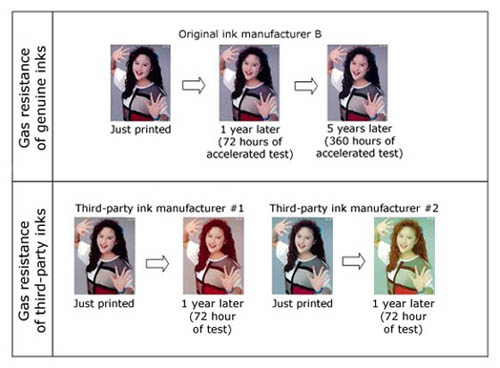 Once again, it's clear that original inks are more fade-resistant than compatible ones.
So, folks, if you are keen on printing out Japanese girls on your Canon or Epson inkjet and want them to last the longest, you'd better stick with geniune inks 🙂 Otherwise, watch for photos fade out over time.